As we know that Granite is found as an igneous rock, developed by molten volcanic lava. It is caged under the earth's surface where is gets cooled and become crystallized. After getting form of crystalline structure, it becomes an extremely strong and durable stone, which we call as granite service Perth and Granite In Perth also. It is normally composed of feldspar, quartz, mica and other minerals which are responsible for its color and texture. For decades it is used as commercial as well as domestic applications like flooring, granite bench tops Perth, splashbacks, vanity tops, bar countertops, wall cladding etc. Here, in Perth, you can easily get this decorative stone from Millennium granite, the best sellers as well as the granite manufacturer Perth. There are various granite suppliers are available in Perth but with our quality products and best services, we have become the best granite supplier in Perth. We are serving as granite suppliers for many years and have satisfied thousands of our valued customers, individuals and building contractors.
Best Granite Service Perth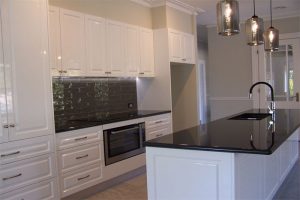 While constructing any household building or office, people like to give it a masterpiece look by marbleizing etc. We as Millennium granite are always called for granite benchtops Perth and for faux painting to give a shiny look to the floors and walls of your house.
We are the top importers and granite manufacturer Perth for any type of constructions like housing, commercial buildings etc. At Millennium granite you will get the best service for flooring, bench tops and wall designing b using top quality granite in Perth.
We bring granite from World's best quarries and at our warehouses, we give it a useful shape by cutting and finishing. Here, in Australia, we are known as the best granite supplier in Perth.