What are Edge Styles?
Edge styles are defined as the designs used to craft on natural stone slates which we select for our kitchen benchtops, bar countertops and faux designs etc. These styles can be design by using stone cutter, stone molding machines and with the best efforts of an experienced craftsman.
Why You Should Contact Us for unique Edge Styles?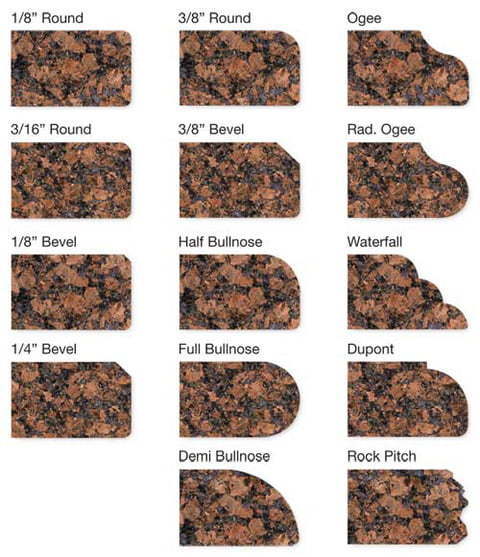 Millennium granites does not only known for providing best granite and engineered stone benchtops Perth, it is also known as the best countertop edge style designer. As we have the ultra-modern equipment and highly skilled craftsmen who put their best efforts to design your benchtop whether it belongs to marble Perth, granite or engineered stone. For example a best car designer can modify any type of car whether it is Ford or Toyota, as he just need to have best equipment and required material. Same as here, once you select any type of stone for your benchtops or countertops for any purpose, we show you an album containing various edge styles you can select from and we guarantee you to give the exact design you select or imagine in your mind.
Our highly skilled granite Perth craftsmen and co-workers put their best efforts to produce unique edge styles of countertops used to develop kitchens, bathroom, BBQ area and Bar section. We apply latest tools and equipment to design edges of the stone to make them unmatched and eye-catching. This is the reason people approach us to get high quality granite and engineered stone products and to give a unique style to the edges of the granite and engineered benchtops Perth. As we are the best granite manufacturer Perth, we try to maintain the quality service with day by day improvements in tools and trainings we offer to our craftsmen.
Our Popularity in Perth!
Most of the building contractors and individuals in Perth and nearby locations approach us to get stylish benchtop and countertops for their kitchens and other areas where these countertops could be fixed. We put our best efforts to give an accurate shape and finish to the edges of engineered stone benchtops Perth so that they could itself define their beauty.
Here, Millennium Granites have hundreds of designs for countertop edge styles from which you can pick anyone or you can order us to develop any type of edge style of your choice, as our experienced craftsmen are able to design anything on granite Perth, marble Perth and engineered stone Perth.